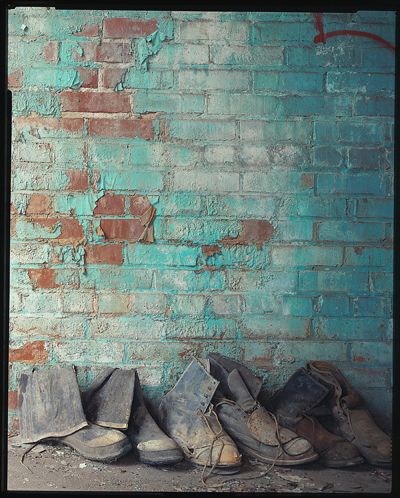 Boushra Yahya Almutawakel
Born in Sana'a, Yemen, in 1969, Boushra Y. Almutawakel studied in the USA and Yemen, obtaining a BSBA in International Business at the American University in Washington, DC. It was during her time as a student, that she became interested in photography, and worked as a photojournalist on the university newspaper and yearbook, and as a photo lab assistant at the School of Communications.
On her return to Yemen in 1994 she worked mainly as an educational adviser but continued developing her photographic work, doing free lance photography, and participating in many group exhibitions
In 1996 she was a founding member of the Al-Halaqa in Sana'a, an artists' group which created a space for discourse and exhibitions and forged links with international artists.
In 1998, Boushra became a full-time photographer, and some of her clients have included the United Nations, CARE International, the Royal Netherlands Embassy, the Social Organisation for Family Development, the National Institute for Health Education, The British Council, The French Embassy, the French Cultural Center, Nixen, Foundry, Business & Accounting Magazine, fd.Outlook, Yemen Today, as well as various commercial and individual clients, while pursuing her own personal photographic projects.
In 1999, she was honoured as the first Yemeni Woman Photographer, with a number of other Yemeni women pioneers by the Empirical Research and Women's Studies Centre at Sana'a University.
In 2001 Boushra won a World Studio Foundation Scholarship toward her study in Advertising Photography at the Portfolio Centre, Atlanta, USA, completing the program in 2002. As a photo student, she won Mac on Campus (1st place),Show South (gold), among others and her work was published in CMYK magazine (2001-2) and Graphis New Talent Design Annual (2002). Her work has been featured and published in Yemen Times, Yemen Observer, Yemen Today, Artasiapacific Almanac 2011, El Pais, Muse, Yo Donna, De L"air, Beaux Arts, Photo, Connaissance des Arts, Harper's Bazar Arabia Art, Punctum, The Guardian, and Mind Magazine. Her work has also been featured in web magazines and blogs such as Nafas Art Magazine and photo blogs such as 500 Photographers, Greater Middle East Photo, Mrs. Deane, The Rachel Maddow, Slate's Behold photo blog, Culturfphiles, and the New Yorker's Photo Booth among others..
Boushra worked as a consultant on cultural affairs for the Yemeni Embassy in Washington (2002-3) and organised a series of events in the DC area, as part of the 'Windows on the Cultural Heritage of Yemen", a symposium at the Smithsonian, as well as exhibits, lectures, concerts and film screenings on Yemen. From 2005-2006 she worked at the Ministry of Human Rights in Sana'a, focusing on women's issues, while also pursuing her photography.
Her work has been acquired by the British Museum in London, The Museum of Fine Arts of Boston, the Barjeel Foundation, as well as by other well known collectors.
Boushra Almutawakel recently moved from Sana'a to France in August 2013 with her husband and their four daughters.